Overview of the Chemicals Management Plan
Help on accessing alternative formats, such as Portable Document Format (PDF), Microsoft Word and PowerPoint (PPT) files, can be obtained in the alternate format help section.
(PDF Version - 600 K)
This document is available in multiple languages
How are chemicals regulated and managed in Canada?
There are many standards in place to protect Canadians and the environment from the risks of potentially harmful chemicals. Key legislation allows the federal government to manage chemicals in order to protect human health and the environment. Such legislation includes the Canadian Environmental Protection Act, 1999, the Pest Control Products Act, the Hazardous Products Act, and the Food and Drugs Act.
Since 1994, the Government must be notified of any substances that are new to Canada before they can be imported or used in manufacturing, so that the Government is given an opportunity to assess the substances to determine if they pose a risk to human health and/or the environment. If a substance is found to pose a risk to human health or the environment, control measures may be put in place before it enters the Canadian marketplace or is used by industry. If the risks are unmanageable, permission for using the chemical in Canada can be denied. The Government of Canada assesses approximately 500 new chemicals each year.
Prior to 1994, many chemicals used in Canada were not subject to Government environmental and health risk assessments. Between 1999 and 2006, the Government of Canada classified the chemicals, according to specific criteria, and then identified those 'existing' chemicals that required a health and/or environmental risk assessment. The approximately 4,300 chemicals were divided into high, medium, or low priority for action so that the Government would focus immediately on chemicals of greatest concern. These actions, and many others, are currently being undertaken through the Government of Canada's Chemicals Management Plan.
What is the Chemicals Management Plan?
The Chemicals Management Plan protects human health and the environment by assessing chemicals used in Canada. Because it is jointly managed by Environment Canada and Health Canada, the Chemicals Management Plan is a highly integrated program that addresses environmental and health risks under the various laws noted above.
There are three key elements of the Chemicals Management Plan:
challenge to industry and other stakeholders - immediate action on chemicals of high concern;
other regulatory activities - targeted at food, cosmetics, drugs or biological drugs and pesticides;
new investment in research and monitoring - to learn more about the effects of chemical exposure on human health and the environment, as well as to provide the necessary means to measure the success of actions to control or reduce risks.
The Challenge: High-Priority Substances
The Challenge to industry and other stakeholders was developed to address approximately 200 chemicals identified as high priorities for action, based on their total use in Canada and potential to cause harm to human health and/or the environment. The Challenge divides these chemicals into 12 batches of 12 to 20 chemicals each. Approximately every three months a new batch of chemicals is released for comment and information gathering. Industry and other stakeholders are required to provide information such as how these substances are managed and how much of these substances are used. This includes information that:
forms the basis for the risk assessment;
identifies industrial best practices in order to set benchmarks for risk management and product stewardship; and
details environmental release, exposure, and substance or product use.
This information is used to feed into evidence-based decisions when assessing risks to human health and the environment, and developing measures to reduce these risks. Figure 1 outlines the process that is followed for each Challenge chemical. It is important to note that the absence of information from industry and stakeholders will not preclude measures being taken to safeguard human health and the environment.
Figure 1 - The Challenge Process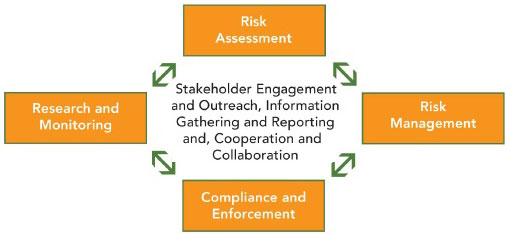 Regulatory Activities
Some chemicals have been grouped by sector to develop comprehensive risk assessment or management approaches. For example, 160 chemicals used in the petroleum sector are being assessed. Regulations are also being developed to address the

potential human health and environmental impacts of new chemicals contained in food, drugs and cosmetics (and other products regulated under the Food and Drugs Act) when they are released to the environment.
Other activities contributing to the Chemicals Management Plan include a re-evaluation of a number of older pesticides, and the implementation of a mandatory incident and sales reporting systems for pesticides under the Pest Control Products Act.
Monitoring and Research
A key element of the Chemicals Management Plan is monitoring chemicals in both humans and the environment. Monitoring chemicals in air, water, wildlife and humans involves the regular collection of physical, chemical and biological data using standard methods and protocols. Research generates new science-based information that is necessary to understand the risks chemicals pose to human health and the environment. This can include identifying hazardous properties of chemicals, their fate in the environment, and how people and wildlife may be exposed and affected. There are a variety of monitoring and research programs in place, such as the Canadian Health Measures Survey and the

Maternal Infant Research on Environmental Chemicals (MIREC) study. The Chemicals Management Plan also includes observations of sensitive species through an ecological monitoring program that will also serve as an "early warning" system for harmful substances in the ecosystem and for concentrations of potentially harmful chemicals in various media such as air, water, soil or biota such as fish.
Public Participation
Engaging stakeholders and the public is central to the Chemicals Management Plan. Regular public information sessions and consultations are held on specific topics. In addition, the Chemicals Management Plan Stakeholder Advisory Council has been established to offer advice and input from industry, non-government organizations, labour and Aboriginal groups on the overall implementation of the Chemicals Management Plan. The Chemical Substances Web site (www.chemicalsubstanceschimiques.gc.ca) provides information on all activities related to the Chemicals Management Plan. All significant documents and decisions are posted on this Web site for a 60-day public comment period. Canadians and organizations are encouraged to review the information and provide comments.